Master Bedroom Project in Central New Jersey.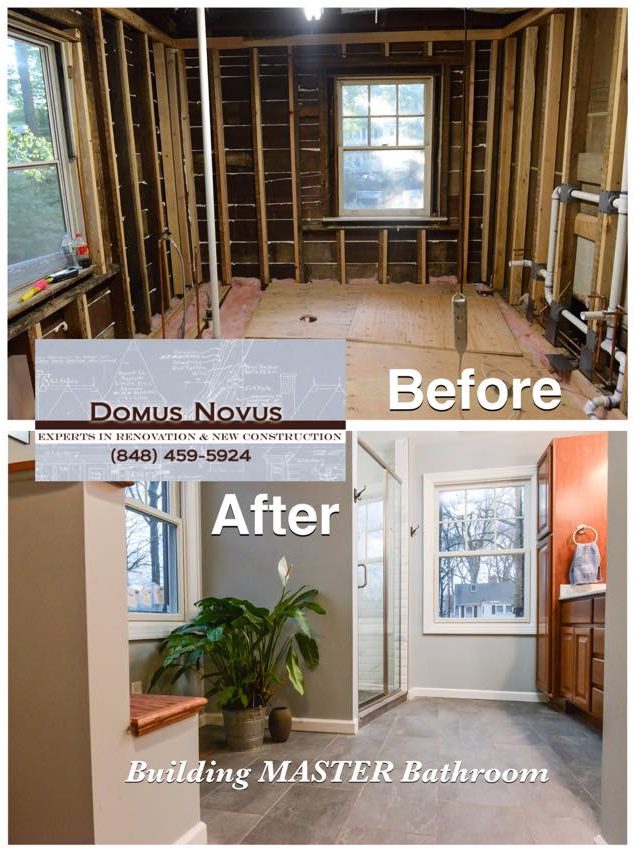 Master Bathroom Project by Domus Novus.
Our clients wanted to build a master bathroom on second floor as an addition changing the layout of the house.
We started the project building the bathroom out of a bedroom. We created necessary  reinforcements for the building as this second floor room was sinking into one of the sides. Created a safe and stable room.
In the photo above you see the before and after of the bathroom building project here in Central New Jersey.
Electric plumbing, insulation, replaced windows, and heated floors.
In the before photo you see the developing work after demolition and installation of new plumbing, electric, insulation, new windows, and heated floors.
In the after photo you see the bathroom's new floors, window's beautiful crown molding frames, new painted walls, standing shower with a bench, beautiful tile inside the shower (not seen in the photo), new bathroom cabinets, double sinks (n.s.i.t.p.), mirrors with lights (n.s.i.t.p.), temperature control on the wall (n.s.i.t.p), bench for changing area, toilet behind the changing bench wall  (n.s.i.t.p.).